Childcare offer
Childcare options
All-day care:
Monday to Thursday: 7:00 am - 6:00 pm
Friday: 7:00 am - 5:00 pm
Half-Day Care Morning:
Monday to Friday: 7:00 am - 1:00 pm
Half-Day Care Afternoon:
Monday to Thursday: 1:00 pm - 6:00 pm
Friday: 1:00 pm - 5:00 pm
Children's groups
Kinderhaus LOKI offers space for 4 groups in the two houses with large grounds.
Group "Wage Kunterbunt":
2 babies from 3 months and 7 children from 1.5 to 4 years / 3 caregivers
Group "Wage Nuggichrabler":
8 - 10 babies and toddlers from 3 months to 2 years / 4 caregivers
Group "Wage Bananefüess":
12 children from 2 to 3 years / 3 caregivers
Group "Wage Gwunderfitz"
15 children from the age of 3 until kindergarten entry / 3 caregivers
Staff
The management team of Kinderhaus LOKI consists of the managing director, the head of the children's house and the deputy head of the children's house. All of them have a qualified, pedagogical education.
Several group leaders, trained co-caregivers, apprentices and interns work in the childcare team.
The LOKI team also includes a cook, a room attendant and a caretaker.
Regular pedagogical training is supported and financed by the company.
Daily Routine
The children are brought to Kinderhaus between 7:00 am and 9:30 am. During the bringing time we provide a small snack with fruits. From 8:35 am to approximately 9:00 am, a communal breakfast takes place. After that, we offer the children an individually designed program. At 11:30 am we will have lunch together. After lunch, the little ones take a nap and the big ones have a rest. The afternoon program is also designed according to the needs of the children. At about 3:30/ 4:00 pm there will be a snack (Zvieri). Between 5:30 pm and 5:50 pm (Friday 4:30 pm to 4:50 pm) the children are picked up. At 6:00 pm (Friday 5:00 pm) LOKI closes.
A varied and child-oriented daily routine is very important to us. In addition to guided activities and various excursions, we offer the children appropriate free spaces in which they can develop and unfold individually.
Bringing and pick up times
Children can be brought from 7:00 am to 9:30 am and picked up from 5.30 pm to 5.50 pm (Friday 4:30 pm to 4:50 pm). We kindly ask you to inform us early if you exceptionally want to bring your child later or pick him/her up earlier. In order to be able to carry out a good and professional handover, we ask you to pick up your child at least 10 minutes before Kinderhaus closes.
Special offers
In addition to the excursions and activities that each group does individually, we also have great inter-group activities. The groups are reorganized every week so that all children can participate. Only children who are cared for on the corresponding days in the LOKI are assigned.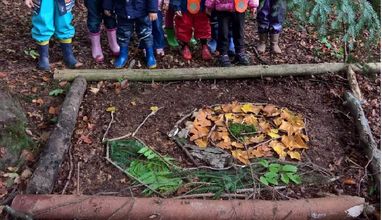 Forest afternoon (Thursday - from October 2023 on Tuesday)
All LOKI children from the age of 3 are allowed to participate in the forest afternoon on a rotating basis.
Every week the group of about 7 children is newly formed.
Procedure
Depending on the weather and season, we set off at 09.30 am or 11.00 am and return to the LOKI by 05.30 pm at the latest. First we prepare our lunch over the fire, then we discover the forest through countless possibilities: These include observing, exploring, gathering, working, climbing, digging and much more. The children experience the four seasons in nature. Together we discover animals and their tracks, as well as various plants. However, the program varies depending on the weather and is adapted to the needs of the children. Therefore, it can also be that we come back earlier or that we set off towards the forest only after nap time.
All children who take part in the forest (afternoon) day, will receive a separate letter with important informations.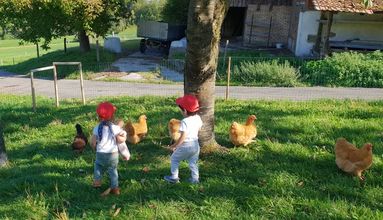 Farm day (Wednesday)
The children from all LOKI groups may take turns participating in the farm day.
The children's group is put together anew each time.
Procedure
At about 10.00 a.m. we set off in the direction of the Schönenberg "Schöni" farm in Bergdietikon. We play on the farm playground and are allowed to pet and feed the animals. Throughout the day, we thematize the farm through a picture book, games, songs. etc. Depending on the weather, we eat the special farm snack "Buurehof-Läbchueche" in the garden or in the farmhouse. Before we head back, there will be a small final quiz on the theme of the farm. At the latest at 5:30 p.m. we are back at the LOKI with many new impressions.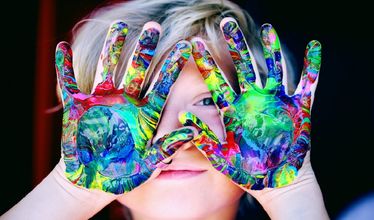 "Rägeboge" Studio
The studio takes place on different days of the week.
Procedure
LOKI children from all groups come together in our "Regeboge-Atelier" and are allowed to experience, live out and strengthen their imagination together with all their senses for about 1 hour. The framework is adapted to the age of the children. Creativity, imagination and a lot of fun are emphasized for all ages. As a start, the children climb through a hoop into the "rainbow world". Then they are introduced to the theme through stories, role-playing games, riddles, sensory games, songs, etc.. Afterwards, creativity is given free rein through painting and handicrafts. As a conclusion, a theme-related song is sung. Afterwards, the children leave the "Rainbow World" again and are brought back to their groups.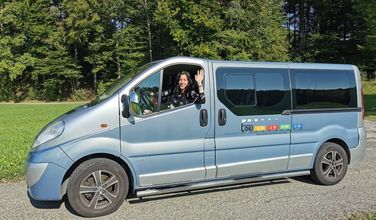 LOKI-Bus
For great experiences and exciting excursions provides our LOKI bus, which is an absolute highlight for the children. Our LOKI bus has 9 seats and is equipped with age-appropriate child seats according to safety regulations. With this bus we can quickly reach various playgrounds, zoos, parks and much more. Not only the varied excursions, but already the ride with children's songs or stories are loved by the children. Of course, the LOKI bus is driven only by experienced drivers.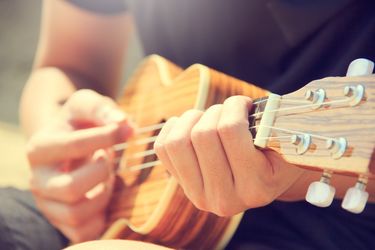 LOKI Singing Circle
Once a week all groups of LOKI come together to sing, dance and make music. Every week a different group organizes the exciting and varied singing circle. This takes place on different days of the week and in different groups or even outside.